Senior Fellows Application 2023-2024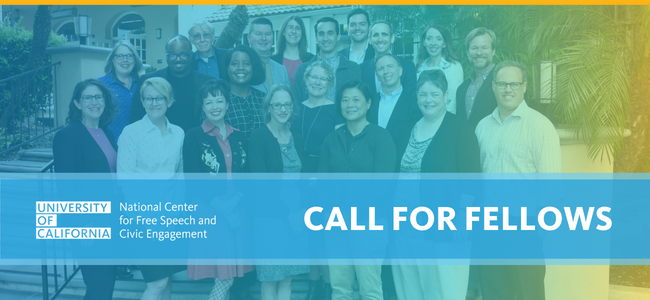 Welcome to the 2023-2024 Senior Fellows Program Application
This program is open to current and former Center Fellows who would like to build on the work done during their fellowship year.

About the Senior Fellowship
Many fellows have expressed that a year is enough time to complete research, but typically not enough time to apply the research and see it in action. The Senior Fellows program offers a chance to do just that. A Senior Fellow's work product can take many forms such as (but not limited to) qualitative/quantitative research, curricular modules or training programs/pilots.
This is not a residential fellowship. Selected Senior Fellows will be awarded $25,000 to support their work, and up to $5,000 in research funds will be available as needed.
The one-year fellowship will run concurrently with the incoming Fellows, from July 1, 2023 through June 30, 2024.
In addition to producing "work product" over the course of the year, Senior Fellows will also be responsible for:
Advising incoming fellows
This will include meeting every other month (virtually) with current Fellows (typically for one hour) in order to counsel them on project-related issues including how to promote their research/findings as well as being available to consult with incoming Fellows one-on-one as needed.
Organizing and facilitating at lease one ALL Fellows meeting
The all Fellows meetings occur quarterly (virtually), are open to all current and former Center Fellows and focus on a current issue of interest (e.g. as we have done with academic freedom and critical race theory litigation).
Serving on the selection committees for incoming Fellows, Senior Fellows and VOICE;
Selection committee activities typically occur in March for incoming/senior fellows and in May for VOICE awardees .
Acting as an ambassador for the Center
Senior Fellows are expected to raise the Center's profile and promote its programming and resources. This could include representing the Center at an event or conference or speaking on a panel.
Senior Fellows will work closely with Center staff on all of the above.

Additional Information
In addition to participating in monthly virtual meetings (as described above) Fellows are expected to attend two one-day colloquia on a UC campus, at the UC Center in Washington, D.C. or virtually. Travel and accommodation will be covered by the Center if applicable.
Involvement and interaction with the UC community is critical to the Center's mission. Over the course of the program, Senior Fellows will be provided access to resources and connections throughout the 10-campus UC system as befits their research.
Applications are due by Friday, March 10 at midnight. If you have questions, please feel free to contact freespeechcenter@uci.edu.